I'll need to look into saving that cabinet as it doesn't APPEAR to have termites at this point.
As far as this one goes, there was always the intent that because this was a
MAME
box that it would play multiple things and need multiple panels, because legitimate uncrowded controls.
Dual trackball panel in motion and nearly done.
Star Wars yoke panel in reconstruction.
And so on to the next.
I loved how ridiculous Toobin was back in the day and Tyler likes the idea of playing it enough that it merits having its own panel.
There is no reasonable way to play the silly game otherwise, and it appears to me that part of the challenge of the game is that the buttons layout is tricky enough that it adds to the mayhem.
My excuse for needing to make my own questionable art for this is that I have found NOwhere that I can buy a regular old original CP overlay (that won't take years to appear I think) even though we know that I just can't help myself.
Plus these panel dimensions aren't original anyway, so i may as well pour some resin on something.
I sorted out the button layout to within reasonable precision to original builds and got plywood cut, routed to round the front edge, and drilled out.
Figured it would be good to begin with a white background so started with some white pigment in 4oz cloth as a base.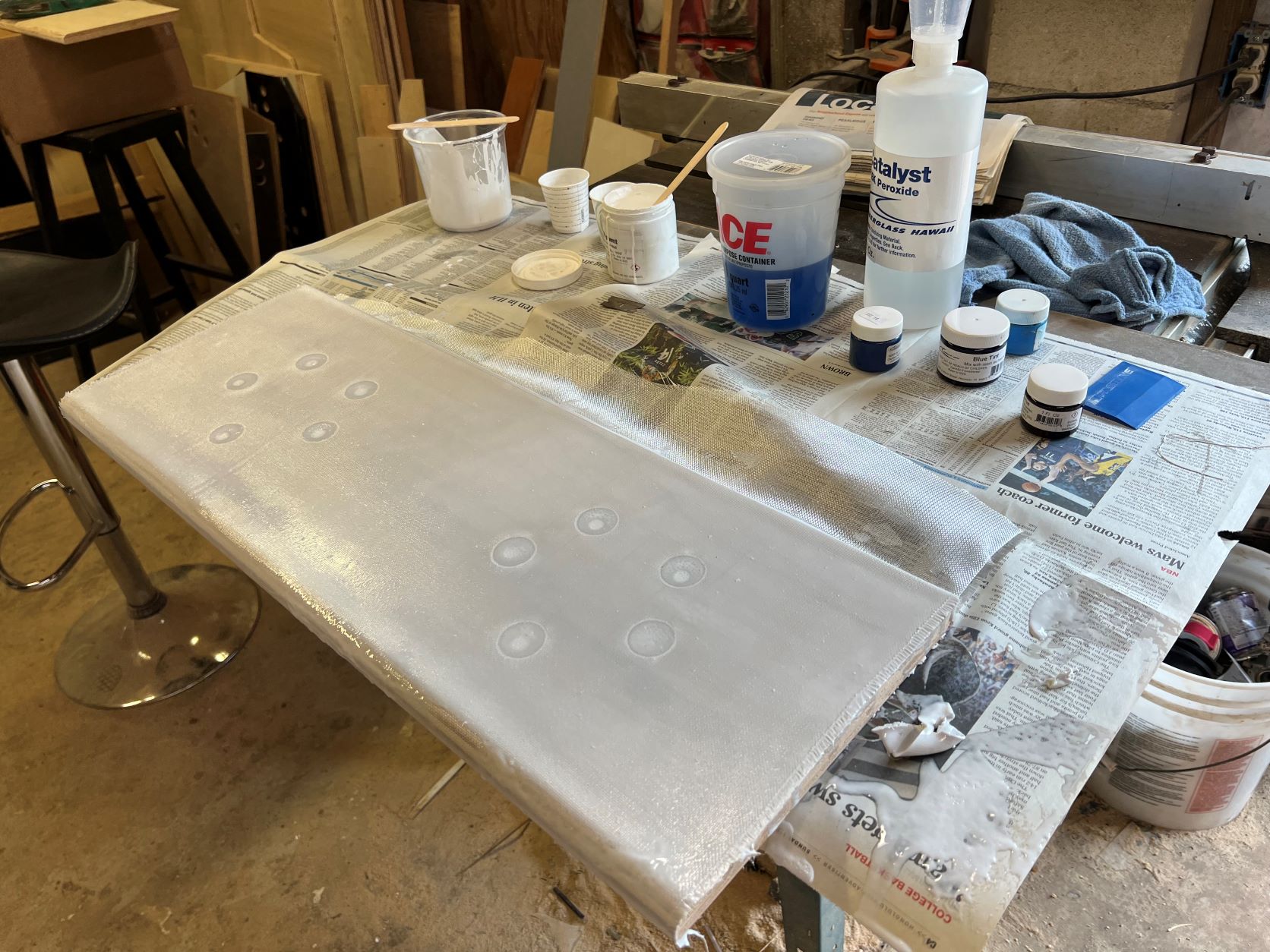 Since the game and the original cabinet are really cartoony I wanted to reproduce that vibe and since I have zero skill with character illustration I thought waterfall feel was appropriate.
I really thought I took more pictures of this as I went along but I appear to have deleted anything I had between layer #1 and layer #7.
Not sure if that was the rum or the resin fumes.
Maybe both.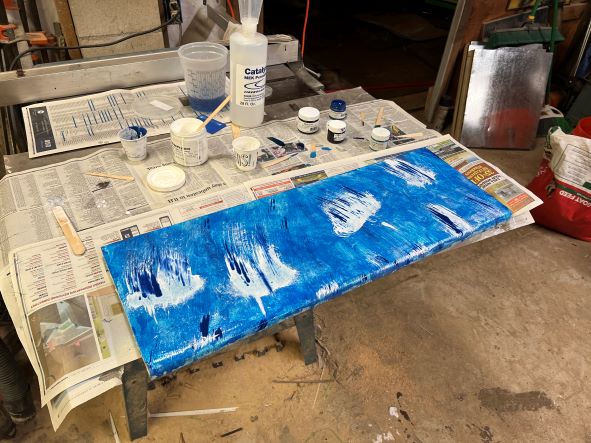 Suffice to say that I layered 2 different blue pigments and some purple and blue tint (along with more white) in seperate layers to get some layering and separation and this result.
A little bit of fun with pulling and swirling a brush around when the resin starts to gel a bit and you can get some very breaking wave-ish kind of shapes.
I redrilled to get through the cloth and resin so I could try to decide what to put in for button colors.
Still not sure if I like the idea of contrast or using white and blue because the tones are the same.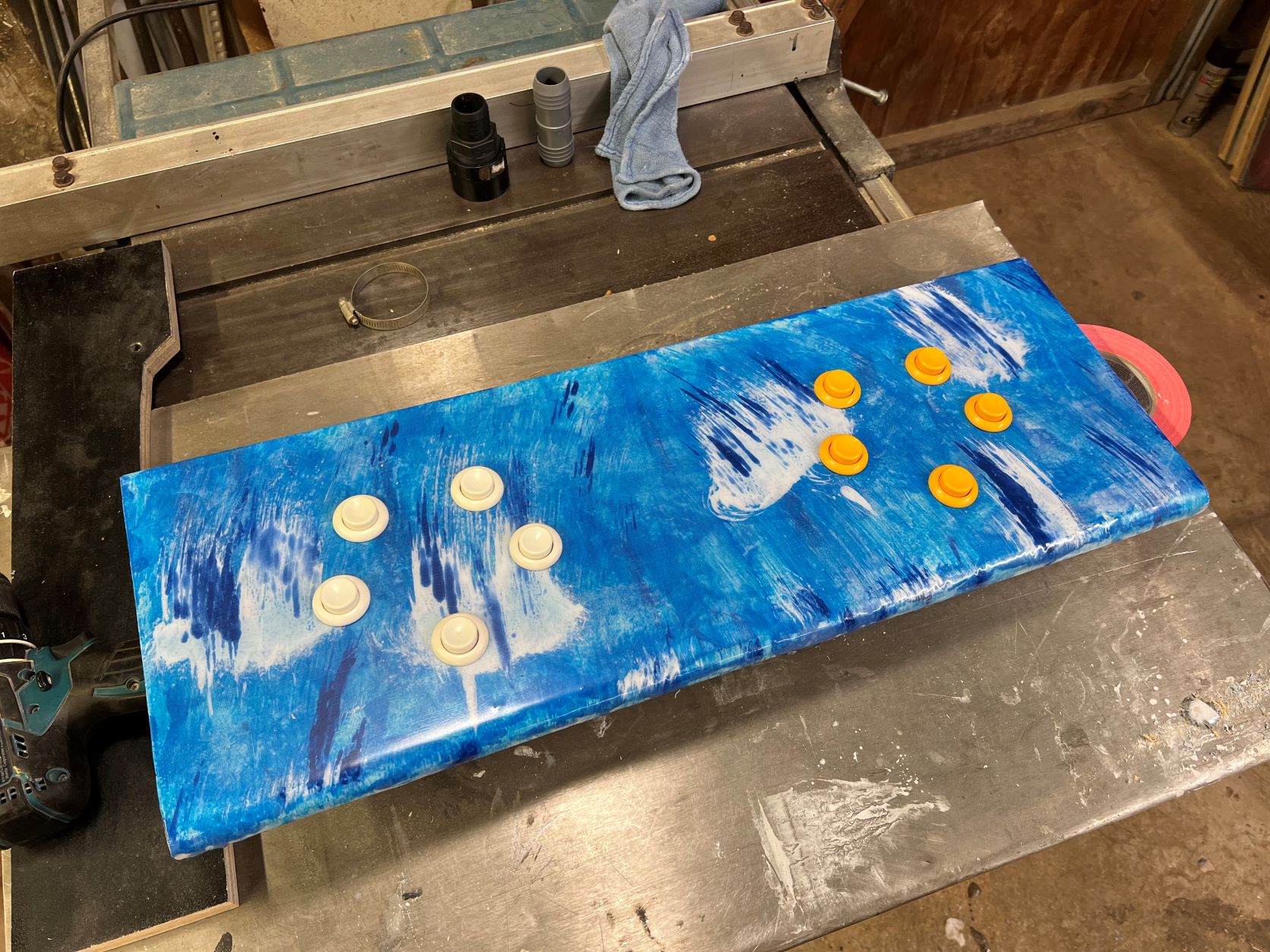 When this has hardened up enough tomorrow I can sand it out and it should be good to polish and wire up.
Then I really have no excuse to avoid reprogramming the U-HID and rewiring the DB25 plug setup I have already, which appears that it will be the initial wiring swap method.